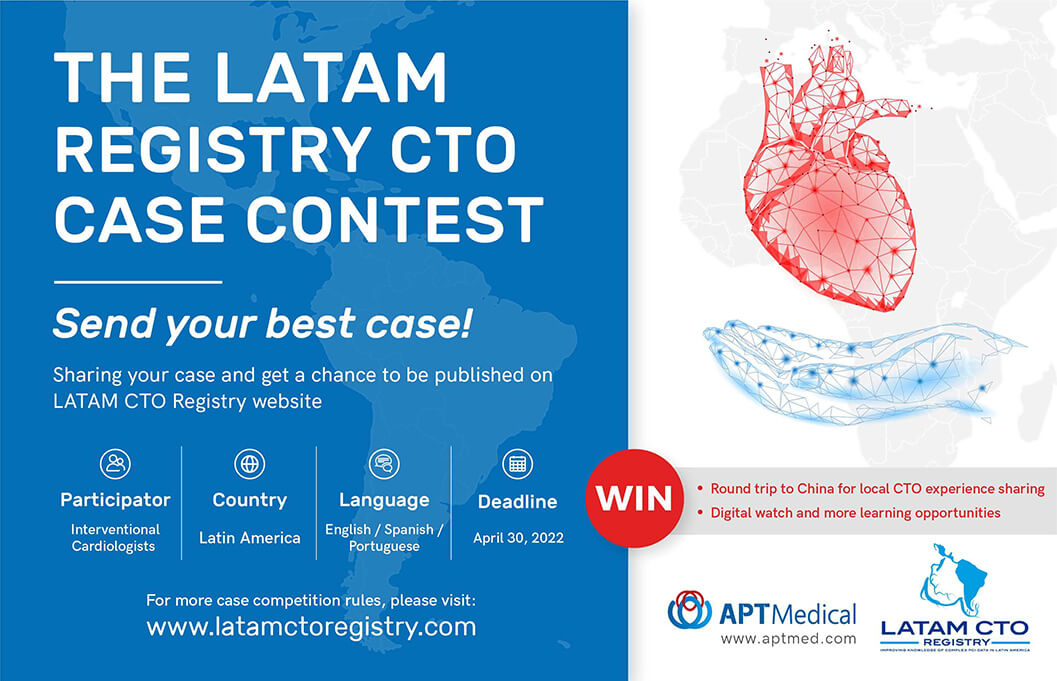 Chaired by Dr. Alexandre Quadros, the LATAM CTO Registry is a project dedicated to improving the knowledge of complex PCI in Latin America. The registry started as an idea in late 2016. Right now there have been nearly 3,000 cases registered from 60 centers in 8 Latin American countries.
APT Medical is excited to announce that we officially partnering with LATAM CTO Registry and Dr. Alexandre Quadros for the event: The LATAM Registry CTO Case Contest.
The contest aims to provide cardiologists with a platform to share and learn, to communicate and connect!
Jurors to this contest are top cardiologists from Brazil, Dr. Alexandre Quadros; Switzerland, Dr. Weilenmann; and USA, Dr. Brilakis.
To reward the winners, we also provide a round trip to MLCTO in Nice, France, and SOLACI in Mexico and more!
Don't miss this excellent and rewarding opportunity!
Besides, APT Medical is also presenting LATAM CTO Registry Tool Learning (GEC), featured by Dr. Alexandre Quadros, watch it via: http://www.aptmed.com/academy. Together with LATAM CTO Registry, APT Medical is dedicated to supporting the development of CTO technique in Latin America.
For more details, please visit: https://www.latamctoregistry.com/